Improved Sales Order Page
About
The improved sales order page is an Opencart extension designed to improve/upgrade your order list page. It adds a lot of features to the order list page which makes the work faster. The features have helped our client save a lot of time.
The extension provides a lot of filters to search the orders. It works directly on the order list page which makes it compatible with other extensions on the same page.
Try Demo?
Admin Side
username: improvedorder
password: improvedorder
Extension can be tested on Sale - Order Page.
Admin Control
Feature Summary
Quickly Change Order Status For Multiple Orders
From the order list page directly you can change the order status of a lot of orders. Also, the option to send customer notifications by email about order status change with comments.
Check Sales Amount For Today / Date Range
You can easily check sales amounts for a different date range easily. A Very handy tool.

Different Search Filters For Order Search
- Search Multiple Order Ids.
- Search by customer group.
- Search by email address.
- Search by phone.
- Search for the exact product.
- Search by product name.
- Search by model name.
- Search by phone.
- Search based on a date range.
- Search based on the store.
- Search based on the company.
- Search based on the payment method.
- Search based on the shipping method.
- Search based on the postcode (Shipping / Payment).
- Search based on the city (Shipping / Payment).
- Search based on the address_1 (Shipping / Payment).
- Search based on the address_2 (Shipping / Payment).
Control Options
You can enable or disable the filters/features of your choice.
By default on the demo, we have enabled all the filters/features.
Order Status Color For Easy Viewing
The feature makes the order list page very organized. As you can easily realize which are pending orders, which are shipped, which one are delivered, etc. You can set up your own colors for your order status via Admin - Localisation - Order Status.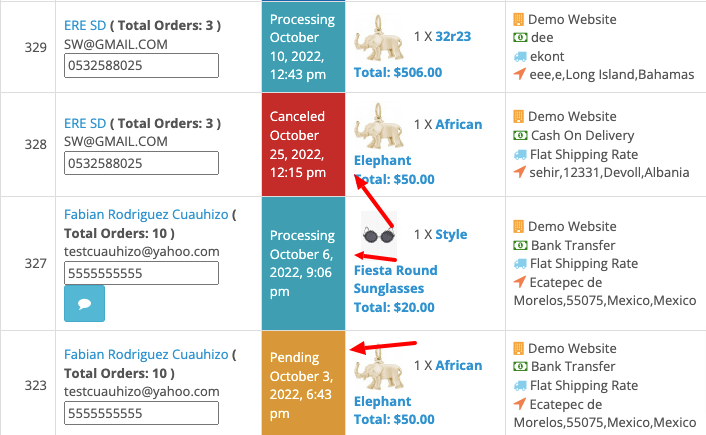 Hide Column
This feature helps you hide any default column which might not be needed. Again it improves the look of the order listing page.
Total No Of Orders Placed By Customer
Instantly know the total number of orders placed by the customer from the order list page. It will display next to the customer's name. If the customer is registered, you can click on the customer name to enter the customer edit form.
Display Purchased Products
Easily check the different purchased products on the order list page.
Instant Phone Number Update
This feature lets you update the phone no directly on the order list page. You can try on the demo. Just click on the phone no input box, change the phone no and click outside. It will auto-save.

Display Payment & Shipping Method
Easily check which payment/shipping method was used by the client.
Display Shipping Address
The feature will help you show the shipping address of the client on the order list page. You can choose what you want to display. Ex: Postcode, city, address_1, country, etc.
Total Amount Display
This feature displays the total amount of the order at the bottom of the list. So based on the filters you can easily check how many payments are received. Ex, payments received for PayPal, payments received for X product, Or payments received by a specific store/customer group. Etc.

Surprise Free Extension With This Module
We have added a free extension with this. It is called "Send Invoice From Admin". This extension lets you email the original email invoice to the client from the order list page. Because by default there is a need to edit the entire order for sending the invoice, which is very time-consuming.
Reference Video
Notes
No core files are changed.
Easy Installation.
Version history
Check all the updates here:
Version History Updates
Support Ticket
Create a support ticket for further assistance:
Ticket:
Create support ticket on cartbinder
Help / Contact us
For any kind of further queries regarding purchase, customization, etc :
Email: support@cartbinder.com
Designed & Developed By

Price: $

18.00




Get Discounts On Multiple License Purchase

---

2 license for $30.60
3 license for $40.50
5 license for $45.00
25 license for $135.00
Specifications:
About Extension
Versions support
1.5.x.x, 2.x.x.x, 3.x.x.x
Core Files Changed
Not Changed
Custom Theme Support
Supported
Uses Vqmod / Ocmod
Yes
Free Installation
Available
Installation Guide
Added In Zip Download
Links
Version History
Check History
Documentation
Check
perfect extension with great support team!
Using this extensions for a few months and it's well worth it. Had slight customization requests which were solved by the excellent support. Can recommend to anyone!

Very fast support, the extension is perfect!
Thank you very much!
it's best extension. working like charm. i searched few extensions in marketpalce and it's best among all of them.
This is an excellent module, it worked straight out of the box just as it should do and was also compatible with my many other extensions.
Thank you very much - this will save me a lot of time!
Very helpfull extension and it worked fine!
An amazing extension and an absolute amazing support! Very helpful and competent support team. HIGHLY Recommended! Keep it up guys!
Thanks Cartbinder!!!

Within 5 minutes my error was gone. Big 5 star rating!
Good extension, everything is working fine. Author's support is fast and helpful. I trully recommend this extension!
Great extension, fast response from author, great support. 5 stars and I recommend!
Great Job & Fast Respond on support! 5 star extension !
Thanks Cartbinder Another awesome extention, thanks again for your great support. 5 stars ***** Dave
Great support .. Highly Recommended :-)
Great support!!!, very useful extension...status order colors helps me very much when I have to handle with many orders every days.
This is really amazing extension. Every oc e-commerce owner has to use it.
By the way it was so fast and efficient support i've ever seen.
Thank you guys, you are awesome :)
I highly recommend cartbinder.

Their plugins are excellent and their support is the best.

Already bought 2 and looking to buy some more.

Thanks again guys/girls. Keep up the good work.

I love this extention... customer support is amazing, I would recommend any extention from this auther.

Nice work!
Really like this simple extension, it really has saved me a lot of time.
We had teething problems after the install but Pavan was there all the way and resolved.
Fantastic support and I would most definitely recommend the addition of this extension to your OpenCart website.
5 STAR
Enter Comments:
Related Products